In our fast-paced society, it is easy to ignore the internal self, our spiritual side. But that is not wise for any of us. This series posts that I wrote a couple of years ago, are highlighted to direct our attention to a very important aspect of our beings. We are not just flesh and blood, mind and matter. We are also spiritual. That part of us is what makes us want to contribute something of value to life, even if we don't acknowledge a heavenly Father.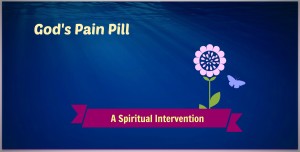 These posts are written primarily for the Christian believer, however, I assume they might be interesting to anyone who is searching for truth and meaning. They may have something for you if you care about important matters including your spiritual side. But keep in mind that I am writing for the person who already has established a spiritual walk with God.
I see a common problem across the board in Christian circles. They're too satisfied; and, they don't deal with their stuff.

I believe there is so much more to this spiritual life than one might realize. I also know that many of my Christian brothers and sisters are trapped and bound to their pasts in a way that affects their daily lives and causes an ongoing disquiet that is often ignored or it feeds a depressed spirit, which eventually causes the person to become mired in a bog that weighs down their spirit in the shadows of the hidden places.
Is that you? Sometimes? Are you negative or positive? Negative? Then keep reading.
And you don't know how to break free. So you pretend. Yet, you know it's there in the wings, just out of reach. Why do you lack joy? Why are most Christians lacking in life and spiritual health?
We must figure this thing out because we're getting stuck without a hope, and everyone around us is noticing.
But there is always hope. I'm so glad for this. Hope kept me sane in the dark days. Christ kept me going. And God loved me. Yet, I was flailing and unable to get a grip on my life. Some times it's slipping away from us. And we feel out of control, like we're barely hanging on to life as it comes at us.
You see, I hadn't gone far enough with it. I needed to let go and let God. I did. Then He did what He does. Let's just call it, miraculous.

That is what this is about.
A SPIRITUAL INTERVENTION

Let's take a look below the surface.
There are some keys in this writing devoted to spiritual interventions, which bears paying attention to. Christians often ignore critical and life-changing components of spiritual life. That's why they're grumpy and tense, uptight and negative. Many have hidden hurts they've never acknowledged and have buried beneath the Christianeze of seeming okay on the outside because they're outwardly productive.
But it is a false front, not real and definitely not authentic. Why? Because it ignores key elements found through a transforming work of God in our lives. It is essential to be enlivened because of our relationship with God. But you have to realize your spiritual need first before you can do something about it.
I should know. There was a lot I didn't understand long ago. That's why I think it bodes well to share this with you in case you missed it last time.
The information found in this series stems from the work God has done in my life over the course of time.
I've seen the principles found in the series' content to be effective and helpful as its practice plays out in others' lives. From this, I can draw an inference that it contains authenticity and makes a decisive difference in those who desire to draw closer to God and to be free of that which constricts their access.
I hope you will participate in the practical tools offered in this intervention series as a way to implement change into your life. We can be blind to our own stuff, but we can be set free of our false beliefs (wrong thinking) and inner struggles. How? That's what this series is about.
Here is a short clip made on an IPad propped up by a music stand from 2013. Yes, corny, but I include it anyway for a reason. I want you to get a sense of who I am, so you can hear my voice as I share the possibilities set before you. God has been transforming my spiritual self, and I find Him to be especially dear and life sustaining.
A spiritual intervention by God in my life has redefined me. I'm quite thankful (and loving it). Now I speak and write because I have something to say…and it's all about being blessed by Jesus. Sorry for the video quality, music stands have their limits and so do IPads, not sure about the waviness. Bear with me.
Welcome to "A Spiritual Intervention."
You can't, but God can. Enjoy!
Norma Brumbaugh
__________
LINKS
-next post:  The need for an act of God in your life: A Spiritual Intervention (preview)