N. L. Brumbaugh Books

I. Book: The Meeting Place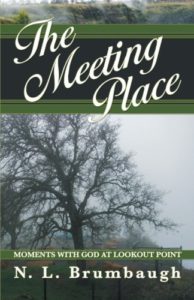 This book had its humble beginnings on Good Friday in the morning. I stopped by Lookout Point to rest my weary head. My heart was torn and in sorrow. A poem began to form as I looked into Butte Creek Canyon. I ran to my truck to get a notepad.
I stood there, looking in to the depths of the canyon. A soft spray of mist was making my face, jacket, and hands, damp to the touch.  Words splashed and collided. The air smelt crisp, clean, like mint and sage. Time mellowed.
I left the lookout knowing I had met God. Every week for over a year's time, stressed or not, I would go to the lookout to meet with God. My one hour of meditation at Lookout Point became the highlight of my week.
This book is for people who want to experience God. It is about hard times and quiet times, heartache and happiness, beauty and natural wonders.  Topic by topic, your spirits will uplift with keen insights into the beauty of relationship with God.

Purchase The Meeting Place on Amazon

A video of the lookout I made with my IPad, hence the quality or lack thereof!  Here is what Butte Creek Canyon looks like when you stand on edge of the ridge between Chico and Paradise in Northern California. This is the place where I went to chronicle my spiritual journey, rejuvenate, and uplift my spirits.
♥♥♥
II.  Book:  First Blush, North State Writers 2017 Anthology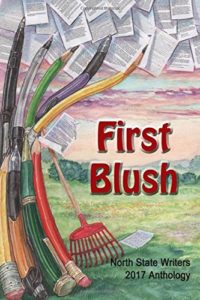 First Blush, North State Writers Anthology is a compilation of short writings by members of the North State Writers group in Northern California, a branch of the California Writers club. As a member of this group, I chose to participate by submitting three nonfiction entries about interesting events I found noteworthy enough to write copy about.
My 3 Entries: For my three entries I wrote about Cowboy Joe, a homeless cowboy my extended family met at a campground in the northwest; a visit to the King Tut display at the Seattle Center that highlights my impressions; and, lastly, a selection from The Meeting Place about a young student of mine with the resiliency of an overcomer despite her difficult circumstances.
The other authors' stories will take you on a journey that will leave you craving for more. These writers know how to write! This is the first of a yearly endeavor as North State Writers make writing an anthology an annual tradition for its members.
Purchase First Blush on Amazon
♥♥♥