Questions I've Been Asked
People ask me more questions than they used to. I suppose you would like to know what a few of them are and how I answered them.
WHAT is your favorite bible verse?
"I have been crucified with Christ; and it is no longer I who live, but Christ lives in me; and the life which I now live in the flesh I live by faith in the Son of God, who loved me and gave Himself up for me." Galatians 2:20 NKJV
WHAT is your favorite quote?
"You may not be what you think you are, but you are what you think." -anonymous
WHO has impacted your life the most other than family?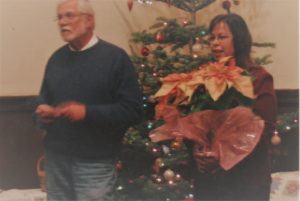 Pastor Larry Peterson impacted my life and shaped my spiritual approach to life.  I learned from him over the course of twenty-four years. When I was devastated or worried, he had answers that were ones I could grasp and apply. He also had little sayings that continue to pop up in my head even though he has not been my pastor for three years. Someone straying? "Tell God on them." You're trying to take control? "God is in control and we are not." Church service over, "Love on someone before you leave."
He was good at giving truth in manageable bites and with loving intention. Pastor loved my kids and baptized all five of them. They all think of him as the real deal, one of their heroes, and so do I. Twice, he and the church family prayed over me when circumstances were crashing in on my family. That was particularly meaningful, and I was grateful. There was so much love. His last time speaking at our church he left us with this challenge; "Speak life" to all you meet. Pastor Pete showed us how imperfect people can find redemption and live transformed lives.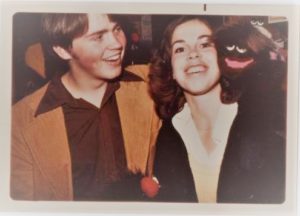 A close second would be a college boyfriend, David Summers. In the three years we dated, he helped me understand the world of knowledge and the joy of literature. Basically, he understood a world I had not discovered as of yet. He made me want to go there to taste of it. Brave New World was the first book he opened up for me; it was my assignment for a sociology course … but I didn't get it.
My world was small, like being a country bumpkin. I didn't have dreams, and I didn't see myself as particularly endowed with any special gifts, and I didn't believe in myself nor thought myself capable of learning the deeper things. I was wrong about myself. Dave was helpful in guiding me when I was in need of a new vision for life. He used to sing to me while we traveled to his folks or mine. I loved that. We parted ways a year after college. I have had the pleasure to visit him in later years on rare occasion. I will always appreciate him and how he showed me there is much to be learned, sought and understood. Dr. Summers is a professor of the humanities in Ohio.
There's a third person who indirectly but greatly influenced my life in ways he would never have perceived. In 2008 I spent a lot of time with a friend from a nearby town who went to the Anglican church in my town. On Christmas Eve, 2007, I went to his church for the first time. The service was beautiful, reverent, holy, unlike any I'd ever attended. I found myself weeping during the singing of Silent Night.  His and my friendship deepened as the months progressed, and I began to worry that I was falling in love with him. I was afraid of it. Questions flowed from me, and he answered them patiently.
In the end, I couldn't make the switch from evangelical to anglican. The break-up came after I voiced my conflicted feelings. He said he had never asked me to become anglican. With resignation he said, "God comes first." I'd been to his ordination and knew this was true of him. With that, a strong sense of stepping out of God's will  came over me. Later came the realization that I had trusted myself and not trusted God. But out of my heartache I was ready to listen. God was opening a door for me that once opened would never shut again.
My taste of what I had experienced in his church lit a fire in me. A hunger to know more allowed me to explore further. I went on a search to understand the other side. Reading books by catholic and anglican writers began to unloosen my grip on rigid thinking (i.e. we're the only ones who are saved and have it right!). A quality came to the surface in those writings that reasonated with me. In many of them I found people who walked closely with God, had true devotion to God, and had a deep love for God, not just knowledge about God. It was much like how I knew and experienced God.
In 2014 I spent a year visiting the local monastery in Vina. A one-on-one conversation with a 90 year old priest was one of the most invigorating conversations I have ever had. The love of God radiates from his being. I found I could no longer bear exclusive parameters and castigating commentary about groups that interpret scripture differently. My own theological views had not changed, but my attitude towards other seekers of God had. Only God knows the heart, and we should be slow to condemn. My anglican friend who introduced me to the liturgy, is now an anglican priest in Oregon. I stop at his church for their morning worship service when I am in Oregon. I don't believe he would want his name shared.
WHY do you write?
I write as part of a ministry. I originally was going to call it Meridian Ministries because I wished to share my message with the world. The wounded and hurting needed some understanding and hope, and I knew I could offer that because of my own personal experiences. I also had a great desire to show a different side to Christianity than is usually presented (and sadly lacking). I write to show the "heart" side of spirituality and the precious intimacy you can have with God. It's a passion with me.  My writing, speaking, teaching, mentoring, and authoring all tie to this message: Christ is the answer . . . to everything. He helps us grow, heal, rejuvenate, humble ourselves, renew and much more.
Second, I write because I enjoy the task of writing, saying what I have learned in ways that people can access, enjoy, and digest. I want to say it in the best possible way and with warmth. I love the people for whom I am writing. I empathize with them and feel their sorrows, hurts, hopes and dreams. I refrain from being harsh or demeaning. Love is to be nurtured and given freely from a place of hope and care. I also am a memoirist, and I am writing a novel about a successful but vulnerable, mysterious young woman who gives her all to find out who she really is (she was abandoned outside an orphanage as a toddler).
Third, I love making words sing. There is an artistic quality to words. I like my words to smile in the heart and have a musicality of expression for the soul. Words can serve to evoke an emotion. I want you to feel what I feel. I want you to consider what I am considering. I want you to be encouraged when I am encouraged.
WHAT is your life purpose?
To make the world a little better and to help people find God relationally. Once they find God in that way, they have found the solution to the problem of what troubles them.
WHAT is your favorite book?
The Holy Bible is first. My second is My Utmost for His Highest. I've read both daily for years.
WHERE would you like to visit?
I'd like to travel in Europe. There are many places I would like to see.
WHO would you like to meet?
I  have a desire to meet and talk about life with well-known people that intrigue me, for a one on one, where we could talk about things that matter, more like an intellectual mixed with religious, low-key discussion. This may sound crazy-like, but I'd like to meet all our presidents and their wives, Charlie Rose, Billy Graham, Ravi Zacharias, Pope Francis, James Martin, SJ, Wm. Paul Young, Eric Clapton, Mel Gibson, David Brooks, Britain's young royals (same age as two of my kids), Michael Hyatt, Norm Lewis, Joel Friedlander, Chuck Swindoll, Shiela Walsh, Sarah Young and a few others. Of course there would have to be a reason for them to meet with me. If any of these ever happen, I'll let you know. I suppose you are surprised because I am shy person. I can conduct a warm conversation with a person I do not know because I listen well and I like to go below the surface … that is, if they are interested in talking with me.
WHAT is your favorite food?
Homemade ice cream.
WHAT is your favorite restaurant?
I'm not picky, and I don't eat out much. I particularly like El Patio's taco salad with shredded beef and guacamole. It's the best.
WHAT is YOUR question for me?
Your turn. Let's have it . . .