My family was at a wedding a week ago; all of my five kids, my grandchildren and me. Quite a feat. It was almost three years since we had all been together. What a joy for this mama.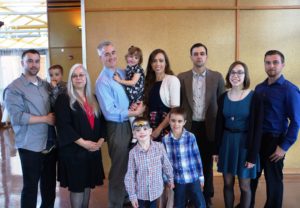 Only one of my five is married and she is in the middle of it with teaching her kids and taking care of her family and two dogs. She's a fantastic (exotic) cook, too! Her husband is a military man, and he's the best! Then my sons. One is just out of the navy. One is in the tech field and one works as a truck driver for a trash company. All are hard workers and I'm pleased with their efforts to make their own way. My youngest is in college and works at a job in the video game field. When she and I visit a restaurant, park, or store in town, people come up to her and ask her questions. They recognize her and usually want some advice on this game or that. She seems to be noticed wherever we go. It's quite the experience for me to see my youngest make her mark in the world.
I wish they all lived around here. Alas, they don't.