A Golden Silence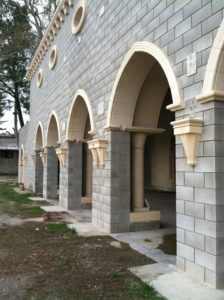 2014 Vina Monastery writings
A Golden Silence is a series of contemplative writings that are more like serious spiritual reflections, prayers and praises to God. I wrote these during weekly visits to Abbey of New Clairvaux in Vina, California. I share two here that are back to back in the original writing.
Contemplation 1
Have you ever asked yourself, why am I here, what is my purpose, what do I have to offer? Perhaps, yes. Purpose comes to all of us, even the one who has fewer assets in the eyes of others.
When I was a teenager, the girls in my church youth group would visit a convalescent hospital once a month on Sunday afternoons. We would sing with the residents during a church service and then walk down the halls, visiting in some of the residents' rooms.
Many were in wheelchairs and some in their beds.
At some point the State made some changes and an influx of physically and mentally challenged children and youth became part of the hospital's clientele. There were children who lay in their beds unable to speak.
One boy always had a huge smile when we came into his room.
He would grin and wildly clap his hands. He couldn't talk or even sit up. Visiting him was one of those uncomfortable feelings one gets when you see things that are unsettling. For whatever the reason in God's plan, this boy's life would be lived out in a closeted room.
He would never know the things we enjoy and take for granted.
His life had value to God. I know God loved him every bit as much as He loves me. God transmits value and worth to all of His creatures. No one is beneath God's love, not even those who throw away the gift that is their life.
I will never forget the boy's smile of delight when we walked into his room.

Contemplation 2
One thing I have noticed in my readings is there are people of God who are touched deeply by the divine utterance. They write prolifically as they share what God has given them. But later people of another opinion question their motives, theology, and spiritual claims. They attack the writer's credibility and pick apart their writings or ministry. People who have met the Savior, will be criticized, run down, questioned, debated, belittled and discredited.
When I read their words, there is a power in the saying of it.
Scripture and God have been shared with the masses through their efforts, the tender heart overflowing with passion for God. These writers speak because they must.
To be silent would be to stop the gift God has given them.
The mystical, spiritual with legs, expression of union with Christ comes forth only to be debunked by people with en-caged and less dynamic spiritual relationships. I read the reviews on the major booksellers sites. "This is a dangerous book," the comment says, when in reality quite the opposite is true. God has lifted the book to a place of prominence in the Christian-religious-spiritual book sellers market.
Christians often can't see the forest for the trees.
We aren't expected to agree with everything a person writes. How can we judge another person's motives? How can we condemn something that gives expression to God? How foolish we can be, and I include myself, to try to limit that which is without limits. People have limits, yes. And failures, yes. But they also have unlimited capabilities and resources in the unlimited resourcefulness of The supreme Father of all living creatures.
Christians are not cookie cutter replications.
God raises up people for different reasons, some to showcase His being through the express work of their faith in His matchless grace. This is seen in their humble offerings of service and the written word of it. I share an example. Mel Gibson has some baggage in his personal life yet we can see how his vision for directing The Passion of the Christ, the movie, was in blend with the Father's empowering.
One senses it when you watch the movie.
We may not like all of it, and I don't, yet it depicts the Christ story with an energetic power source. I get frustrated with Christians and their opinions and reactions. Christians are too busy criticizing that which they are not fully in agreement with even when it is obvious that God has blessed it, whether it be a book, movie, ministry, or outreach. It is best, also, to steer clear of demeaning other centuries and the godly people they produced by measuring them with our current, imperfect, "spiritual" measuring standard.
Leave that to God.
We should know their stance, their theology and their doctrinal positions, but we should refrain from condemning that which, quite possibly, God did not and does not condemn.
God uses all kinds of people to make up His tapestry of life.
Praise be to God.