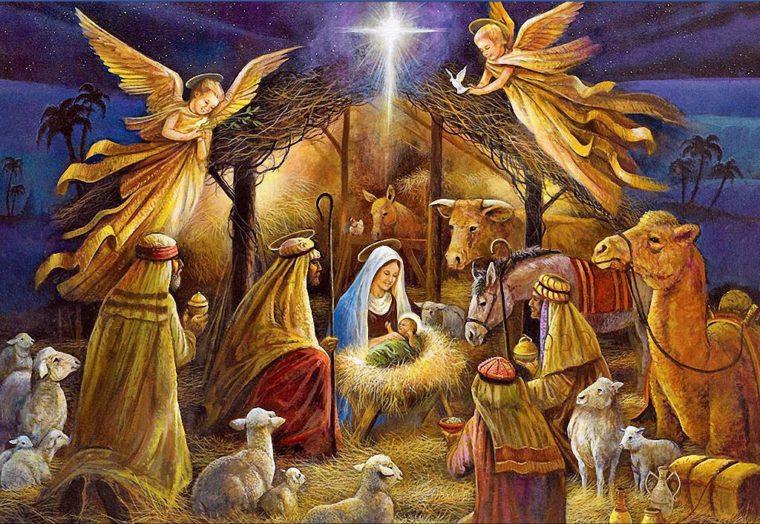 The Holy Night
The night seemed no different than the one before but something was a foot. The hustle and bustle of travelers as they made their way in and out of town made it busier than usual. This was expected according to the laws of the land that required the travelers to register.
She was tired; it had been a long day of traveling. Not easy for a woman 'with child.' A sense of urgency was upon her. Dear, kind and faithful Joseph, was finding it difficult to secure a room for the night. Her heart warmed at the thought. His actions had proven that her man was honorable and God-fearing. Twinges came and went. Was her time at hand? This was an uncomfortable thought.
"Yes, Joseph? A stable?" Not where she would have picked to stay the night, but it would have to do. There was no room to be had.
Hours later, she held her first-born son for the first time. She was amazed at his tiny fingers and toes as she counted them. All there! His sweet-smelling, newborn skin was soft. Joseph helped her swaddle this son they would raise together, though the baby was not his', but God's, as amazing as this was. The angel had predicted this baby boy.  They had named him, Jesus, in keeping with the angel's message.
Mary held her son tight and felt his warmth. How could this be?  she thought, as she beheld the holy babe, her son, Jesus, God in flesh, a miracle of all Miracles. The magnitude of this holy blessing flooded her soul, and she gave praise to God.
Joseph gazed at Mary. His heart grew warm within him. She really was something! He thought back to how the angel had confirmed her story, their story. Her strong character was evident long before that. He knew people would not understand their story, and he didn't expect them to. For him, it was an honor to stand by her side. He would be her protector. He knew their journey from this point on was not going be easy. But according to the prophecies, it would change the course of history.
Dear Mary, kind, gentle Mary, innocent and chaste, a woman with trusting and godly behavior that set her apart from the other young women. He knew she would always be strong in character and pure in heart. She looked as innocent as the baby she held. He marveled when her eyes met his. Tears of awe and love exchanged between them. A trace of a smile graced her lips as they both looked at the child now entrusted to their care.
On the hills nearby, a group of hard working men were watching the sheep settle down as the night air cooled and became crisp. These ordinary men, shepherds by trade, took their job seriously; making sure their flock was safe from harm. They held a healthy respect for the land, animals, and God. This night was like the night before, and like the next would be, too.
Suddenly the sky filled with light; its brightness was exceedingly brilliant. Startled and frightened, these shepherds felt fear jump in their throats. Their hearts pounded. Their bodies quaked, what was this?
Fear not, I bring you tidings of great joy. For unto you is born this day in the City of David, a Savior, Who is Christ the Lord. You shall find the babe wrapped in swaddling cloths and lying in a manger.
Then the night sky filled with heavenly beings. Glorious angels, heralds, messengers of truth, their angelic singing was showering God's glory across the night sky.
Glory to God in the highest, and on earth, peace and good will to all men.
Its message was meant for them, and a message for all people. What glory! What a message! Yes, they must go and find this babe in a manger so they could worship Him. They made their way quickly, their faith in the message entrusted to them by the angels, sped them along as fast as they could go, to find the Christ-Child. With noble hearts, with gentle bearing, they entered the stable and knelt before their King as they honored the lowly Jesus, their God.
That wondrous night had more gifts to give. God was announcing to the world that his Son, on whom the whole world's future would hinge, had joined the human race as a baby, born into the world to fulfill his plan for humankind's redeeming. Jesus Christ and Lord of all would be the hope and Redeemer through which eternity would be purchased for all humankind. Jesus was the Father's gift to the human race. Through the obedient life of his Son their relationship with God would be restored.
A star in the east shone bright and clear. These wise, learned, and astute men took note of it. This was most unusual, but they had waited in anticipation and with expectation. Discussion was undertaken. The magi, wise men, knew this was a summons. They would follow the star for there was a message in the star.
The journey was slow and arduous. When they sought the promised child in Bethlehem, the City of David, King Herod was of no help. In fact, he had a forked tongue and spoke lies about his kingly intentions. They would seek the new King on their own.
The star took them to a humble abode. With holy reverence, the magi offered their precious gifts to the Christ child; gold, frankincense and myrrh. Gifts fit for a King. Their hearts filled with wonder as they worshiped the young child. This was the end of their quest—and it was the honor of a life time.
The biblical Christmas story, the birth of Christ, is no less than spectacular, in epic proportions by human standards. By God's standards, it was much, much more. The life of Jesus Christ, his birth, life, death, resurrection, and ascension, changed, and will continue to change the world, one person at a time.
Real life, in contrast to regular living, is experienced through spiritual transformation. That is what Christ came to give each one of us. Christ's story becomes your and my story through the message of the cross. Jesus became the Savior of the world for you and for me. This old story becomes one that is new every day—for all who embrace our Lord and Savior, Jesus Christ.
Won't you place your trust in him?