People hide the bad things in their lives. If it's pretty raw, people get shocked. I think it is important to know that the Christian community is made up of all of us and that we all start at different places.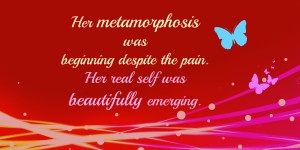 JUST PLAIN SCARED:  CONVERSATIONS WITH EMILY (10)

For the person whom has messed up, they can find encouragement, validation, and hope from reading someone's story, someone whom has been there, dealt with it, and overcome. We need authentic overcomers who prove to us that we can make it too.