People like to start the day on a positive note. Christians like to read something inspirational as a way to start the day with an uplifting spiritual thought. Reading in a devotional book is a daily exercise for many of us. Most devotionals start with a small scripture text and then weave in a short story or thought written to encourage the reader's faith. Devotionals meet a need for spiritual relevancy. They vary in intensity from lightweight content to heavyweight. The following list are the devotionals I have read over the years more than one time through.
1. My Utmost for His Highest: by Oswald Chambers (1874-1917),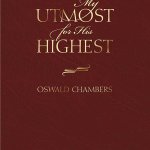 Scottish evangelist and teacher.
      I've read this My Utmost for His Highest original version every year but two since 2002. It is still my all time favorite.
Those who to choose to read My Utmost for His Highest
will find themselves challenged to grow deeper in their walk with God. The reader becomes aware of the need to surrender as they abandon their will (and life) to God. This devotional creates greater longing for the things of God. One cannot read its content without being changed on the inside. It is the one book, next to the Holy Bible, that has contributed the most in my spiritual life. There is always more to grasp in this book.
2.  Selah: Pause and Consider: by Lois M. Tupyi,
American author, and Love INC Director

Selah was given to me as a gift from my sister, Juanita, who worked with the author at Love Inc. in Idaho.
Each day's devotional in Selah has a photo from the Idaho agrarian region, a scripture verse, four-line hymn lyrics, and an encouraging thought for the day. This devotional is a form of praise mixed with life circumstances. This devotional book is nicely formatted and colorful with a touch of whimsy.

3.  Streams in the Desert: by Letti B. (Mrs. Charles) Cowman (1870-1960)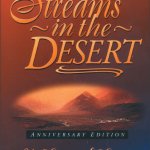 American missionary, Co-founder of The Oriental Missionary Society

After hearing Streams in the Desert referred to most of my life, I bought this anniversary version as a gift for my Book Dinner ladies.
S
treams in the Desert has been a devotional favorite for decades. This devotional contains a collection of writings from well-known people and publications from yesteryear. The content is one of encouragement and fortitude in the faith. It is somewhat diverse with a theme of overcoming through faith in God. This is an enjoyable devotional that helps you when you are struggling in some way.
4.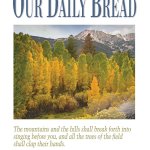 Our Daily Bread: RBC Ministries,  Mart DeHaan, co-editor and grandson of the founder, Dr. M. R. DeHaan.
I began to read Our Daily Bread when I was a Christian school teacher straight out of college.
This small devotional is available online or by mail. Churches throughout the world purchase this devotional in bulk for their parishioners. Each booklet is for three months duration. The daily writing contains a verse, encouraging story, and four-line verse. Our Daily Bread is read world-wide and is offered through a well-respected ministry that has been in the business for several decades.
5. Morning and Evening: by Charles Spurgeon (1834-1892),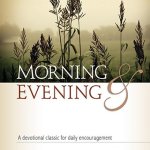 British preacher and author
I purchased my copy of Morning and Evening in 1977. I get more out of it now that I have matured as a person and spiritually.
Those who like the old English gift of expression, personal challenges and deeper insights will enjoy this book. The reader gets two devotionals per day in Morning and Evening,  one to read in the morning and one for in the evening. Charles Spurgeon was a well-known preacher who impacted lives through his preaching. His depth of knowledge is apparent in this book. One must have some maturity in their faith to read this book to enjoy it. The text is not written to entertain or uplift. It is to grow us in knowledge and depth of insight.
Devotionals are a nice way to start the day with a positive spiritual thought. I've not varied my devotional reading mainly because I supplement my spiritual reading with a variety of other books. This is a short list compared to what is out there. I find it of value to read spiritual material that comes from a variety of perspectives. I encourage you to find a book that is inspirational and then develop your own habit of reading however it suits you. Some are available on audio, another encouraging way to absorb positive thoughts for the day.