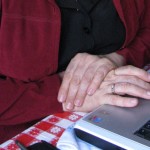 To write is to be vulnerable. But that isn't necessarily a bad thing.

vulnerable: 1: capable of being physically or emotionally wounded. 2: open to attack or damage. Merriam-Webster's Collegiate Dictionary
For the writer, vulnerability comes with the territory. The writer is unsure and uncertain of the potential outcome of their writing. But the writer is willing to risk it. Writers share a part of who they are with their reading audience. To be authentic requires vulnerability. A writer is writing to convey a message. Then they must document their message.  Sometimes the best way to do this is through personal experience. Other times it is through formal documentation.